Building Client Relationships in a Post-COVID World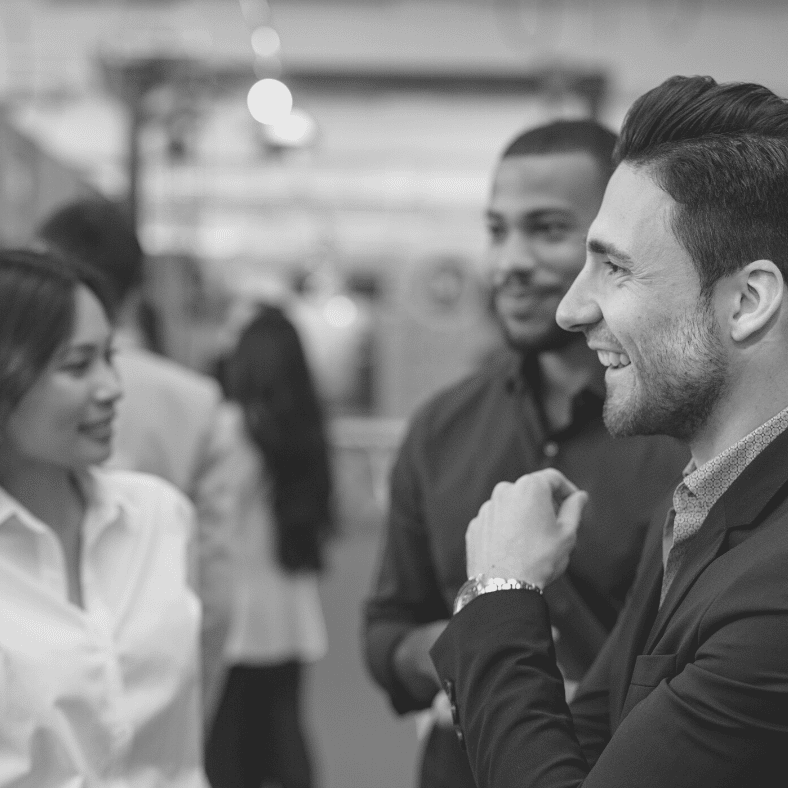 Ten Tips for Lawyers
Written by Julie Savarino for SurePoint Technologies
Numerous studies show that most lawyers (and other highly educated professionals) are natural introverts. This is not a bad thing. It simply means that most of your energy and attention is directed toward what's in your brain and your thoughts. Being a natural introvert helps fuel your brilliance, talent, skills, and capabilities, and helps make you great at what you do!
Conversely, natural extroverts focus most of their energy and attention on other people. Extroverts are often the best rainmakers because they can enter any room and easily make friends. They are often the life of the party, well-liked by many people, and have an extensive network of clients, referral sources, and other contacts.
All new work – for any lawyer, law firm, or other professional service provider or firm – comes from people, whether individuals or groups of people who work in a company or an organization. Legal advice cannot be given to a building, a monument, or any other tangible thing – it's given to people. So, no lawyer or other professional service provider will have any work to do without people!
Whether you're a natural introvert or a natural extrovert, to have a successful practice and career, you must hone your communications skills over your entire career. Communication is a skill that takes work to master. Even the world's best rainmakers and communicators make mistakes or missteps, and because people have their own preferences, likes, dislikes, and even agendas, no person in the world is 100% liked by everyone.
Here are ten tips lawyers can use to master communication skills in this post-pandemic world.
1. Avoid using the pandemic as an excuse to not reach out
The pandemic is not an excuse not to reach out, stay in touch, or communicate with those you already know and work with. I know many lawyers and other professional services providers who have not been in touch with clients, referral sources, and other contacts for two or more years! This is a mistake because relationships need to be attended to and nurtured, especially important ones.
2. Avoid using your personal preferences or situation to not reach out
If you are a natural introvert, avoid using that as an excuse to not work on your communication skills with people you already know and work with or when meeting new people. Instead, become more aware of your style and preferences. Focus on enhancing your existing relationships, and create simple, doable "stretch goals" for yourself, such as attending at least one in-person event and making an effort to meet at least one new person this year or initiating at least one video chat/meeting a month.
3. Be your authentic self
The best way to build trust, the basis of any strong relationship, is to be natural; come the way you are. Most people are wary of anyone they meet whom they perceive as trying to fit into a mold or putting on an act. Bring your whole self to work and into all relationships.
4. Upgrade your IRL communication skills
The pandemic has affected everyone to one degree or another. This means that some people remain cautious about their health and safety. Many people still prefer not to attend in-person events, meals, entertainment, or meetings and many do not feel comfortable shaking hands. When you're with people and you want to greet them, consider pausing and not reaching out your hand to shake theirs. Instead, consider waiting to see whether the other person reaches out their hand to shake yours first, or offers a fist bump or their elbow for an elbow tap.
5. Master your use of video
Just because you cannot wine-and-dine your clients and other key contacts, it does not mean you cannot communicate with them. Virtual communication tools like video chats and meetings and secure messaging apps are here to stay. Not working to master your use of them is a mistake in this post-COVID environment. Here is a checklist to help you optimize your use of video coffees/chats.
6. Be curious
When you're communicating with other people, it's often challenging to get outside of your head and focus on the people around you – especially for those who are natural introverts. One trick is to try to adapt your mindset the minute you are communicating with another person by intentionally stopping your thoughts and being open to hearing what the other person has to say. It is important to be genuinely curious about what others are communicating. Curious people ask a lot of questions because they are sincerely interested in a person or topic.
7. Add value
Stop assuming and presuming your clients are 100% satisfied with both the legal work you provide and the service or touchpoints in the delivery of those services, advice, documents, etc. On a scale from 1 to 10, with 10 being the highest, most law firm clients rate their outside lawyers/firms a 7 on average, so there is more to do to turn clients into raving fans. At least once a year ask them, "Is there anything else my firm and I can do differently or better for you?" Not more or new work, but the nuances of your representation, e.g., are my/our communications timely enough for your internal needs, or are my/our invoices optimally formatted for your company? Here are more service touchpoints you may want to consider updating soon.
8. Optimize the use of your automated calendar
For successful lawyers, all of whom are very busy, the practice of law is often a reactive job, e.g., clients calling with an emergency, an urgent issue, a lawsuit, a need for advice, a deadline fast approaching, etc. To carve out time to proactively get in touch with clients and other valuable contacts, a best practice is to use your automated calendar (Outlook, Google, Apple's Calendar, etc.) to create a recurring meeting with yourself once a week for about 30 minutes and use that time to reach out and stay in touch with key clients and contacts. Without a reminder, it's too easy to keep putting off proactive outreach.
9. Use technology
Nonbillable tasks eat up a lot of every lawyer's available time, because many are necessary and critical, such as keeping your time, going to the restroom, attending internal meetings, etc. Time management is also a discipline and skill that takes constant work. If you have not optimized your timekeeping discipline and system or your law firm's system, now is the time to do so. Robust time and billing and CRM platforms like SurePoint's Legal Management System (LMS), Coyote Analytics, and ContactEase provide the means to manage and build a profitable law firm. Using advanced technology to run a law practice or firm is no longer optional; it's critical to remain competitive and profitable.
10. Include your team
If you want to attend an event, in-person or virtually, but are reluctant for any reason, consider asking a colleague, partner, or referral source to join you. Having someone on your side often makes attending more enjoyable and motivating and provides other advantages as well.
Also, consider scheduling time in your automated calendar to reach out and work with key members of your team, such as your assistant, marketing director, information technology professionals, etc. Communicating with them to review, improve, or upgrade the communications tools used and discuss ways to improve responsiveness at least every year or two is a best practice.
About the Author