New Report Shares Insights from Law Firm Leaders on Growth, Profitability, and Navigating Digital Transformation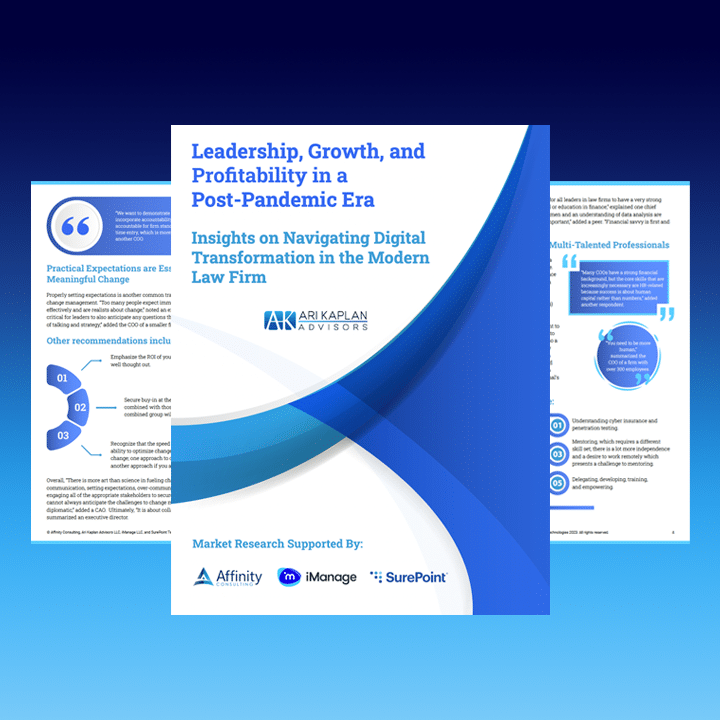 To understand how leaders charged with helping their law firms adapt and thrive are doing so most successfully, Affinity Consulting, iManage, and SurePoint Technologies engaged Ari Kaplan Advisors to gather the perspectives of a range of law firm leaders about the most promising areas for growth, best practices for change management, and how their firms can continue to thrive in an uncertain economic climate.
Between February 21, 2023, and March 15, 2023, legal industry analyst Ari Kaplan interviewed 18 chief operating officers, 10 executive directors, one chief executive officer, and one chief administrative officer at midsize law firms about leadership opportunities and challenges, financial management, technological transformation, training advantages, and the effect of innovation.
This market research was culminated into the report, "Leadership, Growth, and Profitability in a Post-Pandemic Era: Insights on Navigating Digital Transformation in the Modern Law Firm."
Highlights from the report:
Leaders See a Range of Compelling Opportunities in 2023 and Beyond
From carefully piloting a return to the office and embracing better business operations to deploying new technology and seizing prospects for growth, the participating law firm leaders emphasized many areas of opportunity today.
Firms are expanding their marketing penetration wherever possible.
The war for talent seems to be subsiding.
Office space remains an open question.
Mastering the basics of billing often outweigh newer, unproven opportunities.
Leaders are considering future law firm ownership rules.

The Skill Set Required of Law Firm Leaders Has Changed
As the dynamics of management continue to shift, the capabilities necessary to endure are similarly evolving.
Law firm leaders need to be multi-talented professionals.
The shifting workplace requires an aptitude for interaction and communication.

Law Firm Leaders are Creating Value by Executing Key Initiatives
This type of risk-taking and these efforts to create opportunities are key for law firm leaders in a post-pandemic period. In fact, there still needs to be an appreciation for experimentation.
Savvy succession planning is critical for future success.
Automation is an area of opportunity.


The Alignment of Data, Profitability, and Metrics is Driving Law Firm Success
As they expand their technology and processes, firms are becoming more sophisticated stewards of their data. 87% of the participants measure KPIs, such as monthly and quarterly expenses, billable hours for all timekeepers, and collections, regularly. There is also continued interest in properly tracking these metrics.
Beyond simply capturing metrics, many use data to make decisions.
Profitability is a powerful metric.
Technology is empowering leaders with greater insight.
Independent data may help answer internal questions about profitability.
Leaders have various ideas about increasing future profitability.
Service delivery may be changing.
Law firms can deploy data to create a competitive advantage.
Adept Leaders are Simultaneously Driving Innovation and Overcoming Resistance to It
When asked for the percentage of time they focus on strategy and innovation, the respondents shared a range of responses. While many spend less time in this area than they would like, they all dedicate a portion of their schedule to this effort.
The next generation of legal professionals want technology commitments.
Technology continues to transform and elevate midsize law firms.
The benefits and buy-in are key to overcoming resistance to technology.

Legal Technology is at a Core of the Law Firm Growth, Revenue Generation, and Client Service
Technology is a clear enabler and catalyst for growth, revenue generation, and client service at many law firms, including those at which the participating leaders serve. 70% of the responding leaders reported that legal technology helps drive the growth of their law firms and the key theme was that it often serves as a recruiting tool.
This research is designed to showcase the opportunities these law firm leaders see in the near and distant future, along with highlights of the challenges that may impair their ability to achieve success.
ALA Solutions Webcast
In addition to the report, Ari facilitated an ALA Solutions Webcast on August 1, 2023, with three law firm leaders who shared key takeaways from the report and how they are leading change at their firms. The webcast featured panelists Ron Avenida,Chief Operating Officer at Wheeler Trigg O'Donnell; Kara M. Brostron, CLM, Director of Operations at Lashly & Baer; and Cheryl Coutchie, Chief Operating Officer at Foster Swift Collins & Smith.
About SurePoint Technologies
SurePoint® Technologies is the leading provider of award-winning enterprise software that improves workflow and maximizes financial performance and profitability for law firms. SurePoint's solutions integrate client management, practice management, and financial management for powerful relationship-building and knowledge-sharing capability. With a community of more than 100,000 members, SurePoint continues to transform the legal industry by enabling law firms to unlock higher performance, freeing lawyers of administrative burdens so they can spend more time focusing on their clients and their practices.
Learn more at surepoint.com.
About Ari Kaplan Advisors
Ari Kaplan Advisors is a leading legal industry advisory company that publishes benchmarking reports on legal technology trends, delivers networking, public speaking, and business development training for law firms and other providers of professional services, and offers personal coaching and access to its proprietary coaching software platform, https://www.Lawcountability.com. Company principal, Ari Kaplan, is an inaugural Fastcase 50 honoree, a fellow of the College of Law Practice Management, and a finalist for the International Legal Technology Association's Thought Leader of the Year award.
Learn more at arikaplanadvisors.com.