SurePoint's Laurence Winters co-authors "He/Him, She/Her, They/Them: Why Pronouns Matter" in ALA Legal Management Magazine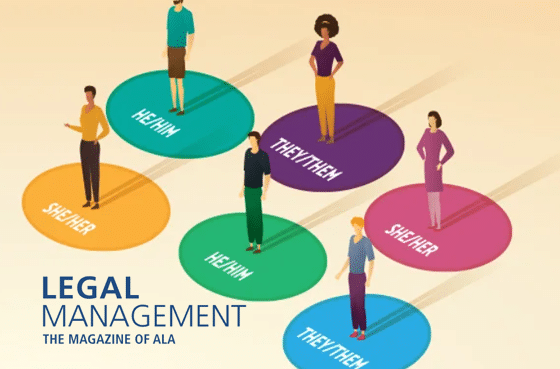 Laurence Winters, Vice President of Relationship Management and Community, SurePoint along with Ellen M. Rosenstiel, SHRM-SCP, Director of HR Employment and Employee Relations, Kutak Rock LLP, joined forces this fall to publish a piece for the Association of Legal Administrators (ALA) digital magazine, "Legal Management". The article was part of the Legal Management Diversity Dialogue column and focused on the value of utilizing proper pronouns for employees in the legal industry and beyond. In He/Him, She/Her, They/Them: Why Pronouns Matter, Laurence and Ellen explain the importance of acknowledging personal pronouns and the impact on those individuals and your organization as a whole.
Winters and Rosenstiel share that "[w]orkplaces must adapt to these realities. More and more people are identifying as something other than their assigned sex at birth. This is particularly evident in the younger generations entering the workforce."
Read the full article here and learn more about how you can make your firm more inclusive and welcoming to your team members and clients.
About SurePoint Technologies
SurePoint Technologies is a leading provider of financial and practice management software to law firms nationwide. For more than 40 years, law firms have relied on SurePoint's enterprise software to drastically improve workflow and maximize financial performance. With a community of 400+ firms and 50,000+ members across all 50 states, SurePoint continues to transform the legal industry by enabling law firms to unlock higher performance by freeing lawyers of administrative burdens so they can spend far more time focusing on their clients and their practice. Learn more at surepoint.com.