ALA 2023 Recap: Fun and Games in the Emerald City
Commitment to Community: Thank you ALA
SurePoint was proud to sponsor the Association of Legal Administrators (ALA) 2023 Conference & Expo in Seattle, Washington. This year, SurePoint celebrated its ruby anniversary—a four-decade milestone—as an ALA business partner.
A lot has happened during that time, and we want to thank the entire ALA community for its support and for celebrating with us in the Emerald City. We appreciate the support from the ALA, the conference planning committee, the ALA chapters, the entire SurePoint Community, and everyone who made the conference one to remember! Thank you for stopping by our booth to visit with members of the team, spin the wheel to support the Foundation of ALA, pick up exclusive anniversary swag, and learn more about ContactEase CRM, Coyote Analytics, and the SurePoint Legal Management System (LMS).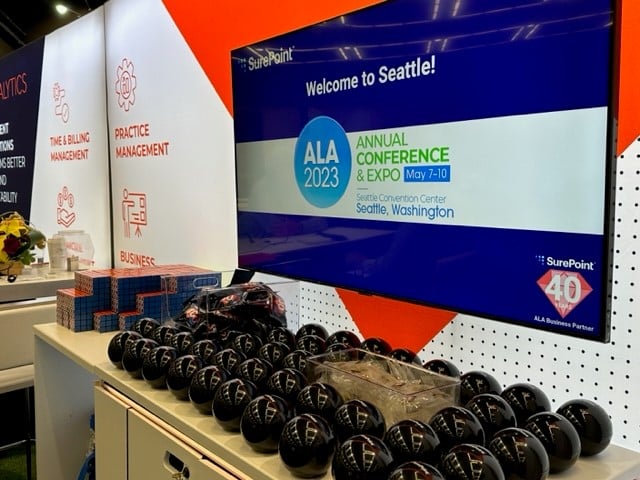 Celebrating ALA Members at the Awards Reception
SurePoint was a Gold Sponsor of this year's ALA Conference & Expo and was honored to sponsor the ALA Awards reception. The awards recognized the ALA Conference Planning Committee, ALA chapters and several ALA chapter members for their work, leadership, DEI efforts, and more. Among the award winners were various ALA Chapters, including the New York City Chapter which received Chapter Awards in DEIA and in Member Value. ALA Houston was recognized and received Chapter Awards in DEIA and in Business Partner Relations. ALA Chicago received the Elevate ALA Award and a Chapter Award in Business Partner Relations. The Boston Chapter received a Chapter Award in Member Value. In addition to chapter awards, individual members were recognized for their volunteerism, spirit, and being NextGen leaders.
SurePoint's Chief Marketing Officer, Lydia Flocchini, said a few words during the awards reception. Lydia shared, "Congratulations to the award winners! You are trailblazers and leading the way. Thank you to ALA for 40 years of partnership and for continuing its mission to empower its members to lead in the business of law. We look forward to many more milestones and working together to innovate, change and make a difference in the legal industry."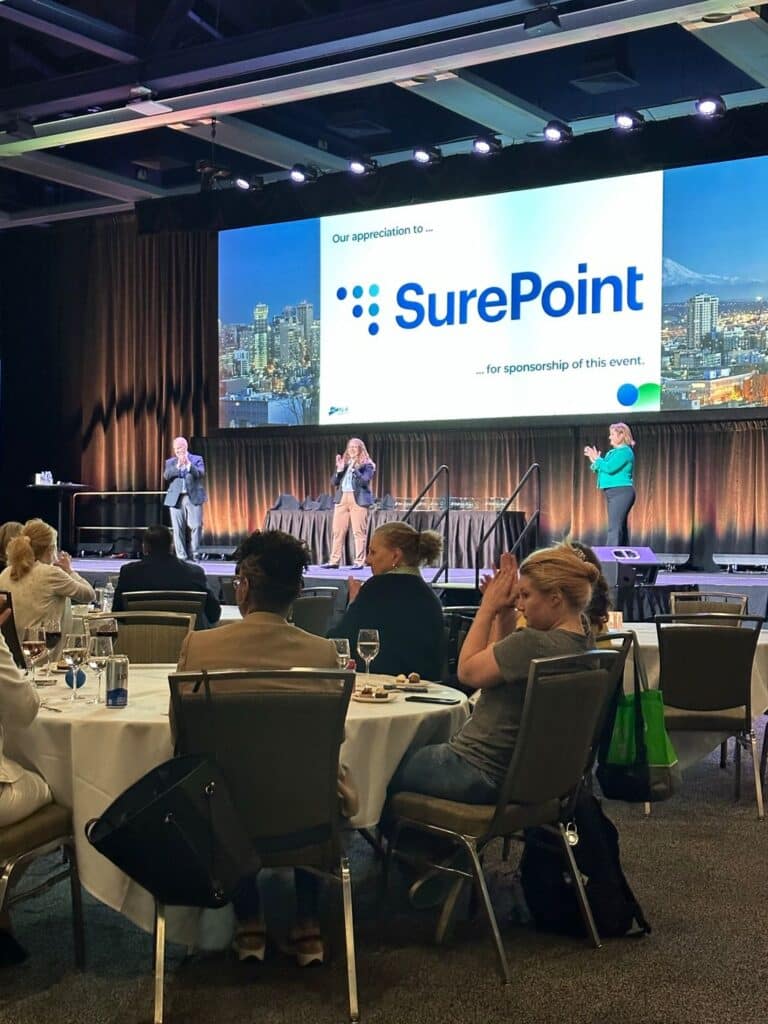 It Was All Fun and Games at ALA
SurePoint also sponsored the games-themed reception on Tuesday night in the exhibit hall. Attendees stopped by our booth, The SurePoint Campground, to play cornhole, giant Connect 4, giant Jenga, and spin our prize wheel for a chance to win exclusive 40-year anniversary swag and to support the Foundation of ALA. A total of $850 raised for the Foundation! Our swag included, among other fun items, a specialty 40-year anniversary pin and custom ruby-red ring pops. Those attending the reception also enjoyed a signature cocktail, The Constellation, inspired by the SurePoint logo.
During the games-themed reception, SurePoint's Laurence Winters, Chief Community Officer and Chair of ALA's Committee on Diversity, Equity, Inclusion and Accessibility, shared: "One of the biggest commitments we've made over the last 4 decades has been to the ALA. We are excited to celebrate our ruby anniversary of 40 years of being an ALA business partner and to helping advance the ALA's mission of empowering its members to lead in the business of law. We also are thrilled to have partnered with more than 30 chapters over the last 40 years and recently have made commitments to the Foundation of ALA and all it is doing to grow future leaders."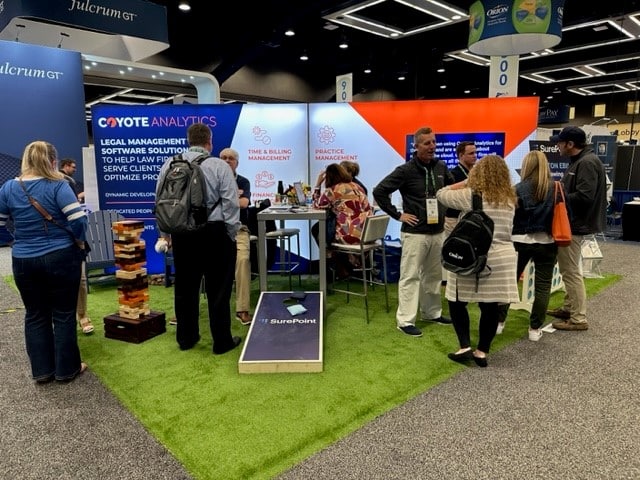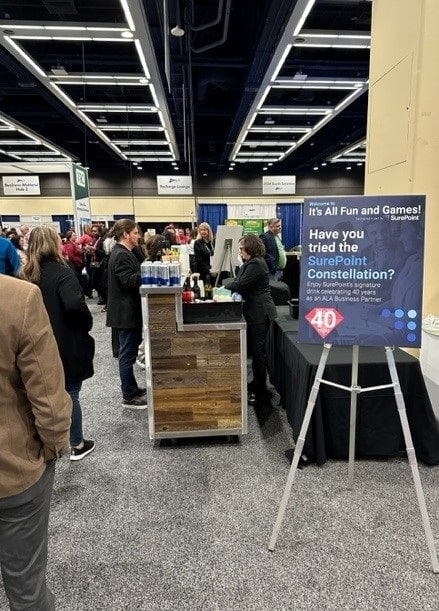 The conference wrapped up with an after-hours event at Seattle's famous aquarium, located on the city waterfront on Pier 59. The event provided an opportunity for attendees to network with their peers and reflect on the conference.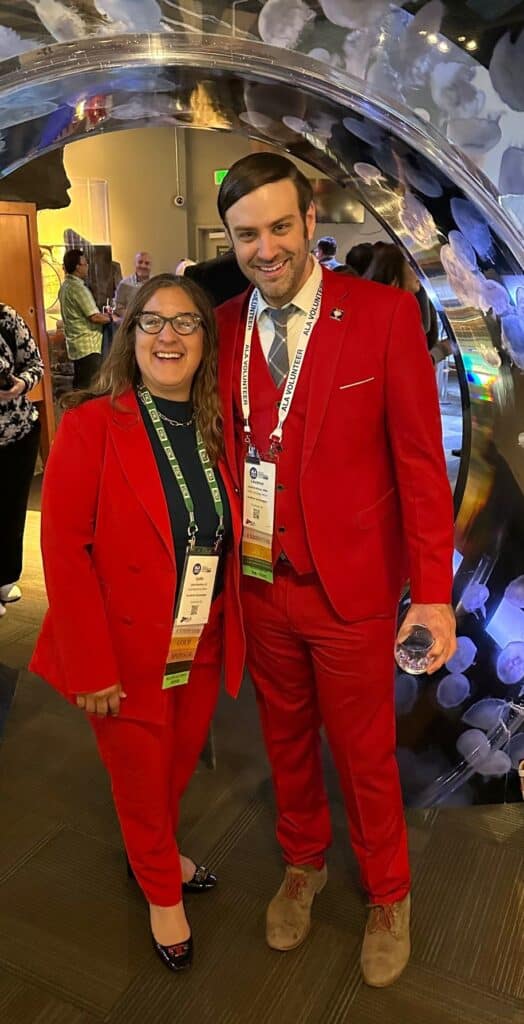 Business Matters Session: Becoming a Data Champion at Your Firm
Lydia presented a Business Matters Session during the conference called "By the Numbers – Strategies for Becoming a Data-Driven Law Firm." She shared why the use of data is critical to the success of law firms and essential to strategic decision-making. She provided insights, best practices, and tips on building a data culture, driving adoption, and managing change, and leveraging data to drive growth and new opportunities.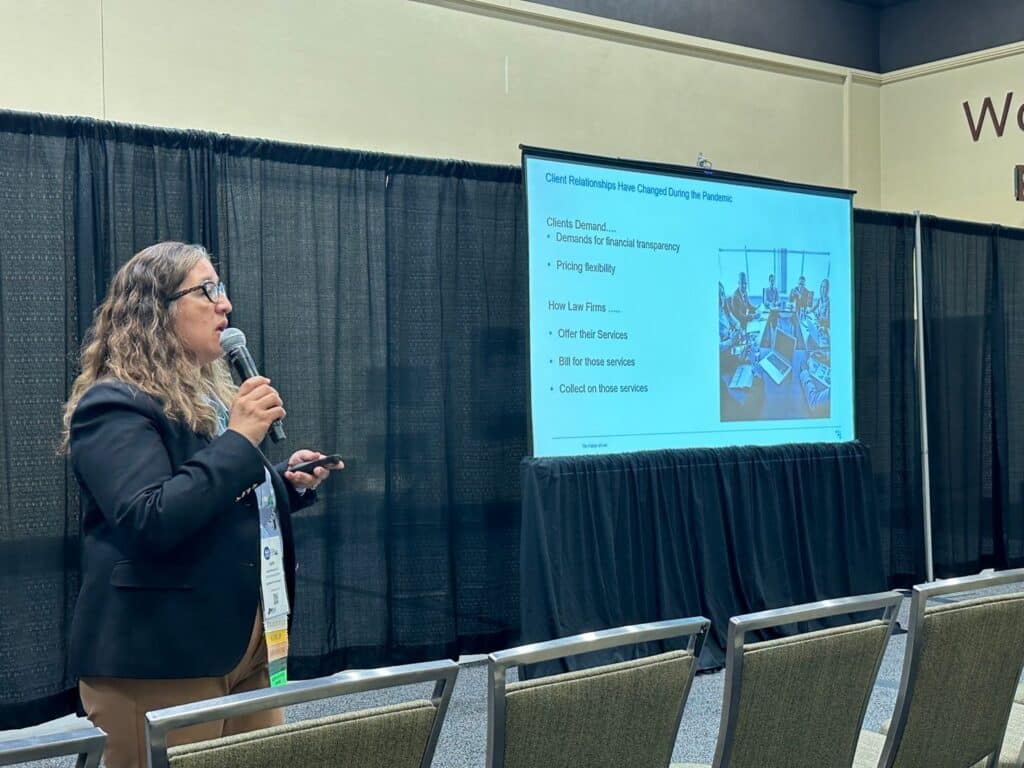 First Look: New Industry Research from Ari Kaplan Advisors
Debbie Foster, CEO of Affinity Consulting Group, presented "30 Leadership Lessons in 60 Minutes" during the conference, where she shared how critical it is to continue to sharpen your leadership skills. Her session was jam-packed with leadership tips focused on improving communication, connections, and collaboration among teams. She also shared details on different leadership styles, creating a culture of candor, identifying ways to connect more effectively, and how to become a more engaged leader.
Debbie also shared a first look at Ari Kaplan's executive summary of the latest legal industry report. Ari Kaplan is a legal industry analyst/speaker and Reinventing Professionals podcast host. Market research for the report was supported by Affinity Consulting Group, iManage, and SurePoint.
You can download the Executive Summary of "The Arbiters of Opportunity: Driving Growth, Enhancing Profitability, and Navigating Digital Transformation in a Post-Pandemic Era" to learn how law firm leaders are successfully adapting and thriving.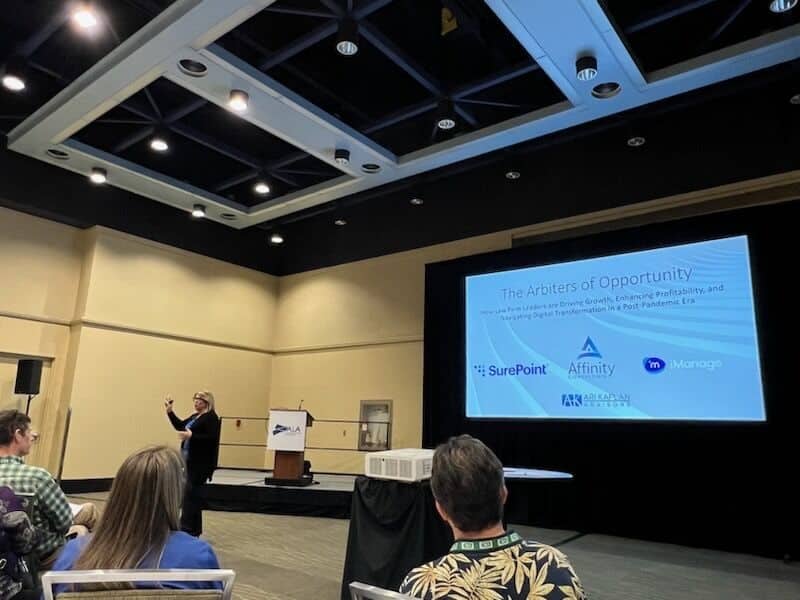 Congratulations to Dennis Mann of Woods Aitken LLP – Winner of SurePoint's ALA Giveaway
The SurePoint team was excited to share how law firms across the country are using SurePoint's solutions, ContactEase CRM, Coyote Analytics, and the Legal Management System (LMS) to improve profitability and performance. Those who completed a short demo at our booth were entered into a drawing for the chance to win an Aventon e-bike. Dennis Mann of Woods Aitken LLP was randomly selected as the winner of our ALA giveaway for the e-bike. Congratulations, Dennis!
Connect With an Expert
Let us know what you thought of the ALA 2023 Conference & Expo! And if you'd like to learn how law firms use ContactEase CRM, Coyote Analytics, and the SurePoint Legal Management System (LMS) to leverage their relationships, understand the activities that lead to new business, improve billing processes, and unlock higher performance, connect with one of our experts today.
About SurePoint Technologies
SurePoint® Technologies is the leading provider of award-winning enterprise software that improves workflow and maximizes financial performance and profitability for law firms nationwide. Its distinctive cloud platform integrates client management, practice management, and financial management for powerful relationship-building and knowledge-sharing capability. With a community of more than 100,000 members, SurePoint continues to transform the legal industry by enabling law firms to unlock higher performance, freeing lawyers of administrative burdens so they can spend more time focusing on their clients and their practices.