SurePoint Technologies Announces Acquisition of Cole Valley Software, Creator of ContactEase CRM for Law Firms
We are excited to announce that ContactEase, a leading customer relationship management (CRM) solution for legal professionals, is now part of the SurePoint family. The acquisition creates the first legal technology platform integrating real-time CRM into practice management and financial data, allowing law firms to holistically manage and grow client relationships.
By acquiring ContactEase, SurePoint has obtained a turnkey, highly functional CRM system providing business data, insight and prospecting tools that, when incorporated in SurePoint's own financial reporting and client management system, will capture return on investment (ROI) for business development. Until now, ROI has been a missing link when attempting to evaluate law firm business development efforts. Obtaining that data gives law firms the ability to better communicate with clients and prospects and understand more aspects of client relationships. The technology also captures competitive intelligence on clients, prospects and other contacts while tracking and reporting business development activity.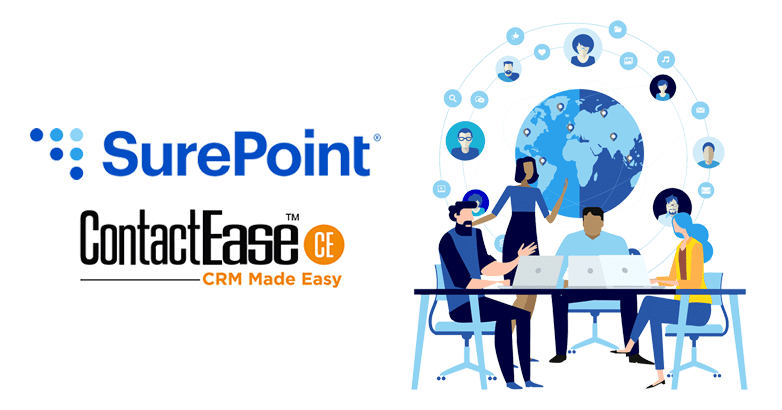 We are excited about blending SurePoint's leading software engineers, accountants and lawyers with ContactEase's team of former law firm marketing leaders and professionals. Together, we will continue to design solutions that transform the legal industry, enabling law firms to unlock higher performance by freeing lawyers from administrative burdens so they can spend far more time winning new business and focusing on their clients and their practices.
About SurePoint Technologies
SurePoint Technologies is a leading provider of financial and practice management software to law firms nationwide. For more than 40 years, law firms have relied on SurePoint's enterprise software to drastically improve workflow and maximize financial performance. With a community of 400+ firms and 50,000+ members across all 50 states, SurePoint continues to transform the legal industry by enabling law firms to unlock higher performance by freeing lawyers of administrative burdens so they can spend far more time focusing on their clients and their practice. Learn more at surepoint.com.