Three Key Takeaways from "Profitability: The Science Behind the Numbers" Webinar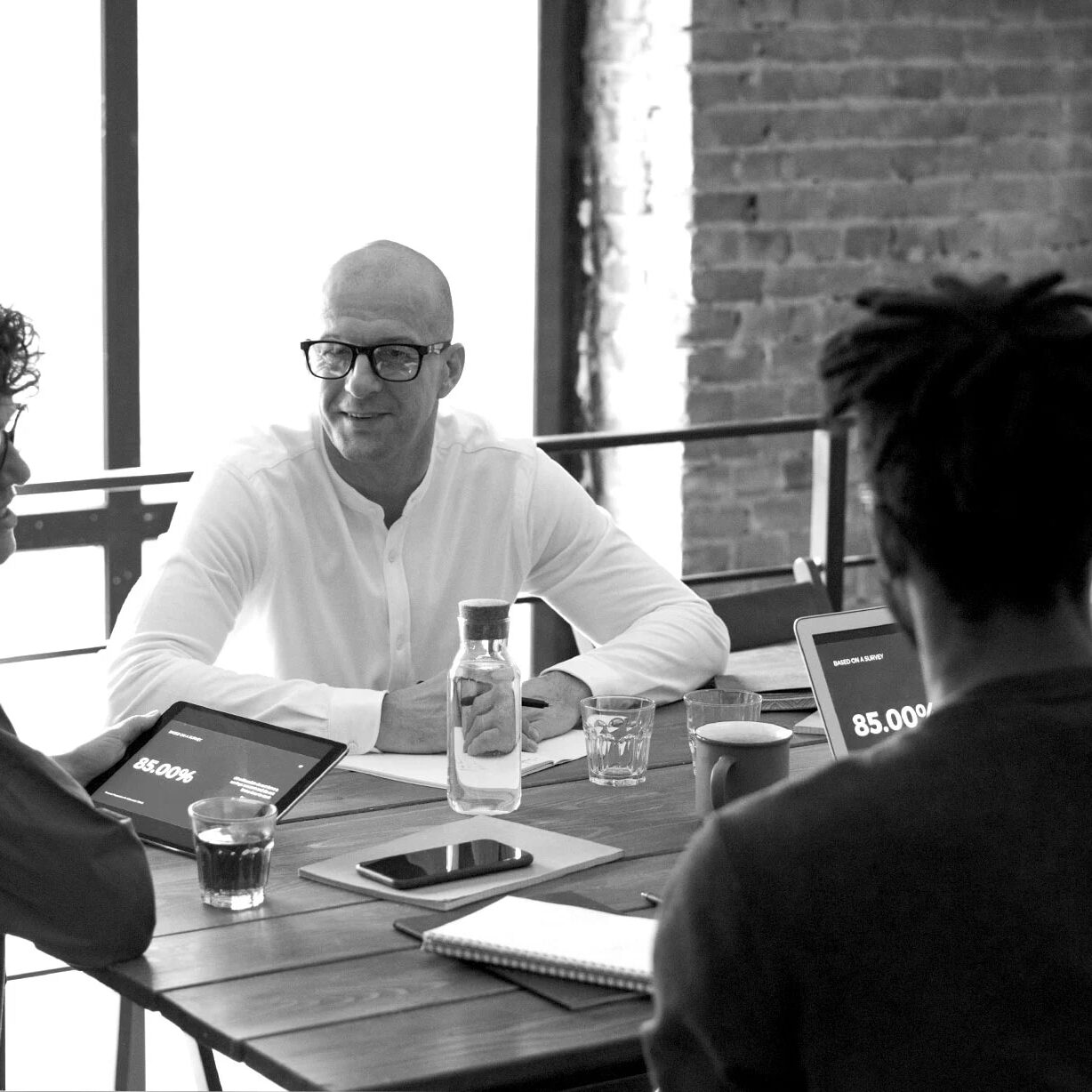 Understanding the profitability of your firm is essential to the stability and growth of the practice. Every firm needs to have a solid understanding of its profitability components – the products (areas of law), the clients (those who buy the products), and the attorneys (those who sell, manage, and create the products). Unfortunately, many firms still rely on antiquated systems and manual data entry to collect this data, do not have processes for gathering it, or in some cases, do not collect this information at all.
In a recent Practice Pointers webinar, Jay Erdman, Executive Advisor with SurePoint Technologies, dove into the importance of developing a systematic approach for measuring the profitability of a law firm. This approach first involves identifying revenue, direct costs and indirect/overhead costs. The second part of the analysis is the application of direct/indirect costs to revenue. The webinar also showcased how law firm leaders can use profitability accounting as a strategic financial management tool.
Three key takeaways include:
1. "Profitability at any firm needs to be objectively and consistently applied, as well as culturally accepted."
Establishing clear guidelines for collecting data and applying it consistently throughout the firm ensures reliable results. Putting the right processes in place preserves data integrity and saves time for both your attorneys and the finance team. However, the key to any process improvement is buy-in from the management committee and cultural acceptance throughout the firm. This requires that the measurement assumptions must be deemed objective and fair for the firm's policies and procedures.
A key benefit to implementing a profitability analysis is educating timekeepers on how their costs and rates impact net profit for the firm, a client, matter, or practice area. This results in better informed decision-making and a data-driven approach to bringing in the right line of business.
2. "Profitability is a strategic financial management tool."
The profitability accounting analysis is a costing methodology which determines the cost of a revenue stream. The analysis computes the direct/indirect rates per hour of the timekeeper and allocates those costs to the their revenue to measure gross and net contribution to firm profits. Firms should be measuring profitability daily and using a robust system for analyzing the data. The system needs to capture metrics such as reported time, reported costs, write-ups/downs, unrealized collections, work in progress, accounts receivables, and statistics relative to the client/matter to measure profits.
For example, the SurePoint Legal Management System's (LMS) Profitability dashboard provides comprehensive reporting to analyze profitability metrics. You can view data at the firm level or drill down by office, department, areas of law, client, client/matter, originating attorney, billing attorney, responsible attorney, and working attorney. In fact, you can see your reporting through yesterday's cash receipts.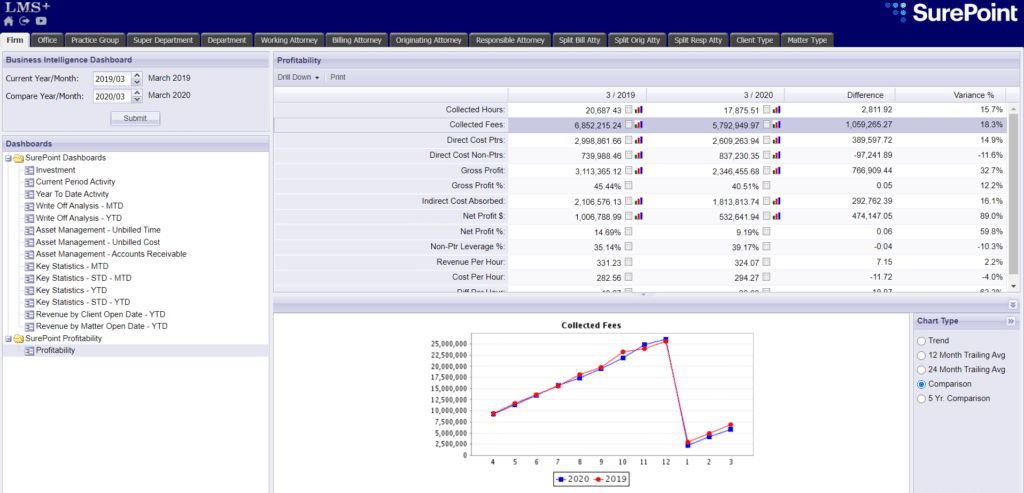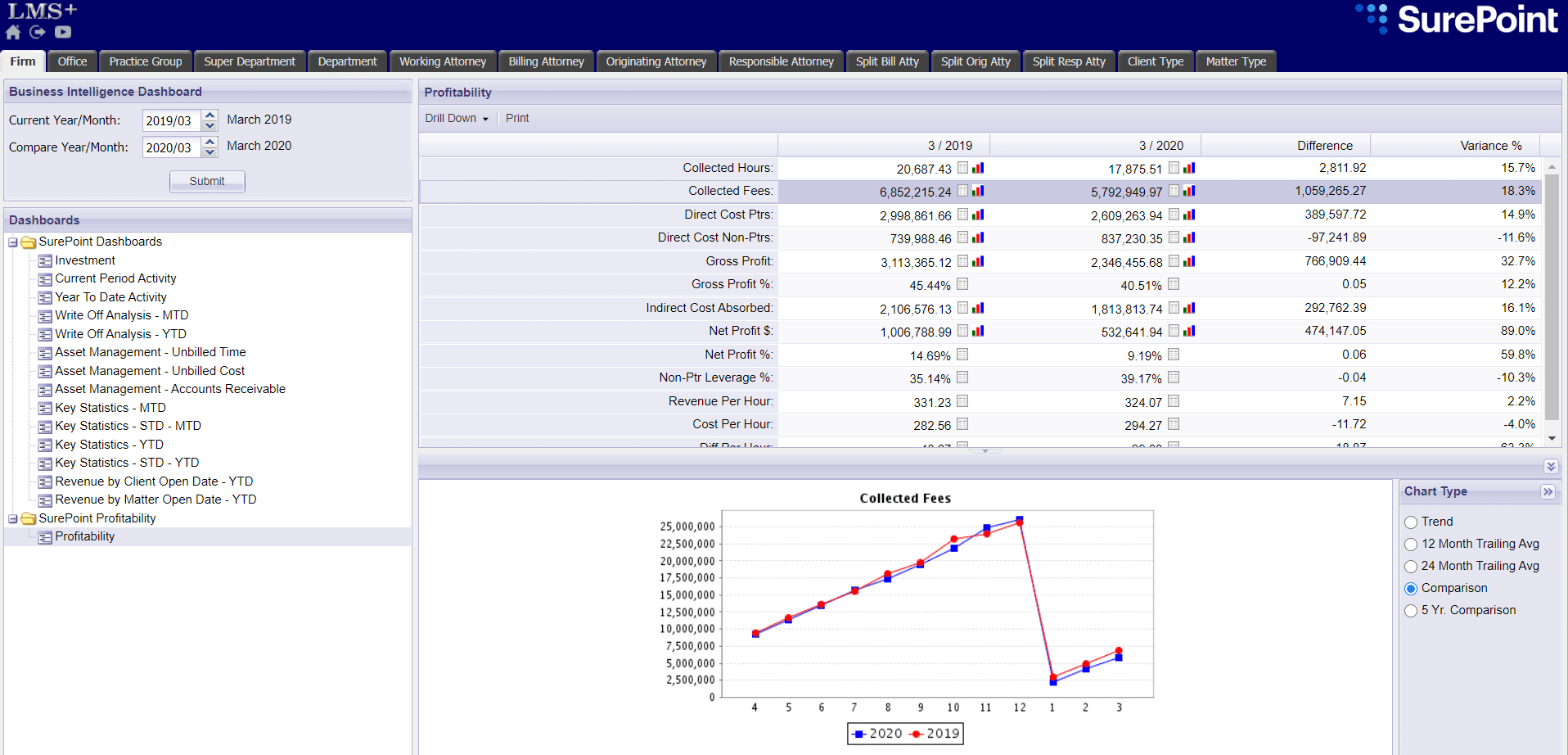 Attempting to daisy-chain different systems or spreadsheets together results in less reliable data. In addition, the delays and manual processes involved in tying this information together weakens your strategic advantage. Alternatively, utilizing LMS and the Profitability dashboard enables timekeepers to capture metrics as they are working and ensures your leadership team has an accurate view of the firm's financial standing.
3. "Know which clients are profitable."
As important as it is to understand profitability by matter type and attorney, it is equally as important to understand which clients and practice areas are making a positive impact on your firm's growth. This requires understanding how your rates compare to your costs. Armed with this intelligence, you can create profitability models for projects, clients, matters and practice areas. This gives you the economic facts on where the profit centers are within your law firm. Conducting a profitability analysis empowers you to make the right decisions about which new clients to bring in and the practice areas to focus on. As competition for business increases, you can leverage these insights to shape your business development efforts and your firm's growth strategy.
Identifying your revenue streams, cost structures, and price points are critical to the success of your practice. Connect with a SurePoint expert to learn more about profitability reporting.
About SurePoint Technologies
SurePoint Technologies is a leading provider of financial and practice management software to law firms nationwide. For more than 40 years, law firms have relied on SurePoint's tailored enterprise software to drastically improve workflow and maximize financial performance. With a community of nearly 50,000 members, SurePoint continues to transform the legal industry by enabling law firms to unlock higher performance by freeing lawyers of administrative burdens so they can spend far more time focusing on their clients and their practice. Learn more at surepoint.com.