Knowledge, Networking, and Joy at LMA 2023
Knowledge, Networking, and Joy at LMA 2023
Joy is not something typically associated with a professional conference. The 2023 Legal Marketing Association (LMA) Annual Conference was not your typical conference. According to Laura Gassner Otting, this year's LMA 2023 keynote speaker, "The joy was everywhere." The SurePoint team experienced it, too.
Passion Fuels Progress: Congratulations to Nancy Myrland, LMA Hall of Fame Inductee
One of SurePoint's guiding principles is "Passion Fuels Progress," and LMA 2023 was full of it. From the beginning, passion, excitement, and joy were everywhere at LMA. Nancy Myrland, was this year's LMA Hall of Fame inductee. A legal marketing expert known as much for her knowledge as her kindness, she encouraged attendees to "Figure out what you're passionate about and be passionate about it." There is no doubt the LMA community is passionate about what they do.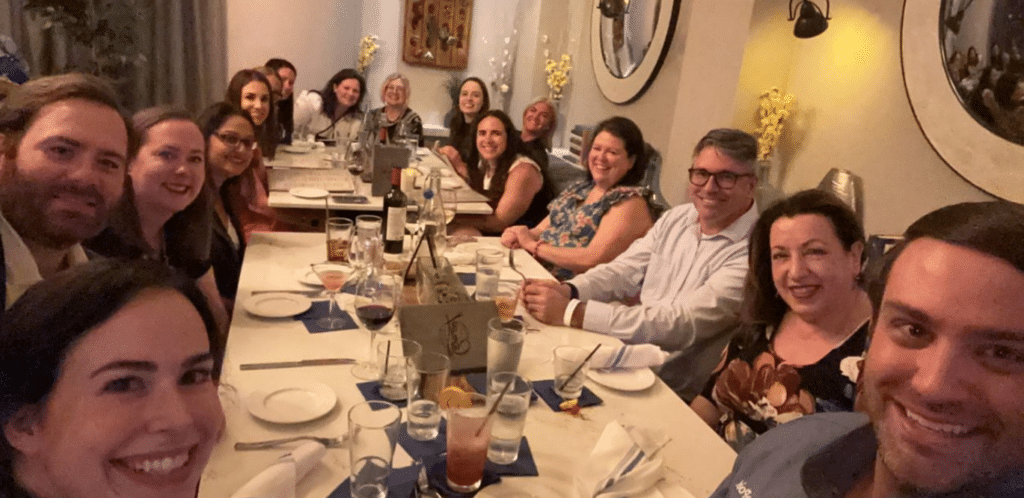 Commitment to Community: Thank You LMA
ContactEase has been a familiar face on the LMA exhibit floor for decades, so when it was acquired by SurePoint Technologies in 2022, continued support of the LMA community was a top priority. SurePoint Technologies was a proud sponsor of this year's conference. Laurence Winters, SurePoint's Chief Community Officer, said, "Community is everything to us at SurePoint, and we're so glad the LMA community has welcomed us."
This was Winters' second year at LMA and the most special. During the conference, SurePoint hosted customers for its first ContactEase Community Dinner. Winters shared, "I love getting to know our customers. It's nice to have an opportunity to gather around the same table with our ContactEase customers."
For first-time attendee SurePoint Account Executive Will Hyde, it was an opportunity to understand how legal marketers use SurePoint's solutions to leverage their firm's relationships and show value. "I know how customers use Coyote Analytics and LMS to run their firms, but after listening to the marketers, hearing their challenges, and sharing how we can help overcome them, I'm even more excited for the work we're doing," he said.
Jennifer Whittier, former president of Cole Valley Software and a CRM expert working with SurePoint to drive the growth and expansion of ContactEase, is no stranger to LMA. As a former law firm marketing director, Whittier benefited from the vast knowledge of the LMA community and continues to benefit from it today. "LMA is unique because it offers full membership to its service partners. I've enjoyed the opportunity to speak at LMA events, volunteer, and partner with legal marketers on exciting projects like the Your Honor Awards," she said. When asked if her experience at the conference has changed over the years, she said, "Legal marketing has certainly evolved over the years. Marketers are coming to the booth armed with knowledge, great questions, and ready to use CRM to make a real difference at their firms."
Congratulations, Hannah Pridgeon of Bradley – Winner of SurePoint's LMA Giveaway
In keeping with this year's conference theme, "Amplify," the SurePoint team was excited to share how ContactEase and our financial, practice, and financial management solutions help law firms amplify their voice, impact, and success. We talked to many marketers interested in using CRM and financial data to understand the relationships and activities that lead to new business. Hannah Pridgeon, a Business Development Manager at Bradley in Birmingham, Alabama, was randomly selected as the winner of our LMA giveaway for a limited-edition Fender electric guitar. Congratulations, Hannah!
Leverage Your Firm's Relationships and Understand the Activities that Lead to New Business: Connect With an Expert
What did you think of the LMA Annual Conference? Let us know! And if you'd like to learn how law firms use ContactEase CRM to leverage their relationships and understand the activities that lead to new business, connect with one of our experts today.
About ContactEase
ContactEase is CRM Made Easy for law firms. ContactEase works with the systems your attorneys already know and use, so there's nothing new for them to learn, and with an industry-leading adoption rate, it is CRM your attorneys will use. Our CRM implementation team is led by Amber Elliott, a former law firm marketer who used ContactEase at her firm. Contact us to learn how ContactEase helps law firms and their marketing teams:
Ensure the right people get the right communications at the right time.
Integrate financial, practice, and relationship data for powerful knowledge-sharing
Understand the activities that lead to new business and ROI so you can do more of them!
Ready to Learn More?
Connect with an expert to learn how law firms of all sizes use ContactEase to improve client satisfaction and their bottom line.